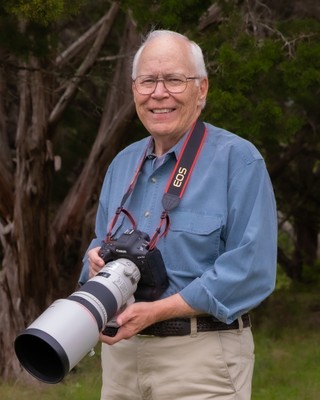 My interest in wildlife and nature photography began at age 12, when I decided to be an outdoor writer and photographer. I devoured every hunting and fishing magazine published. My idol was Erwin Bauer, who wrote vivid prose illustrated by stunning photos of his outdoor adventures. I wanted to be him.
I sold my first outdoor magazine article and photos at age 19. After earning a degree in journalism, and to ensure a reliable income, I entered the world of corporate communications and public affairs. While I did plenty of writing in my corporate roles, I missed photographing nature's beauty. And I was unwilling to give up on my boyhood goal.
So at age 38, while keeping my day-job, I began spending nights and weekends crafting feature stories for outdoor magazines, illustrated with my photographs. Over the next 15 years, more than 350 of my feature articles and more than 1,000 of my photos appeared in dozens of consumer magazines, including Outdoor Life, Field & Stream, and the NRA's American Hunter.
When I retired from the corporate world, I also ended my side gig. But the photography has continued. My primary focus today is birds, but also wild animals of any sort, and striking scenery. I'm fortunate to live in the Texas Hill Country, where there are plenty of wild critters to keep my shutter finger busy.
All images on this website were created over the past few years in Texas, New Mexico, Colorado, Arizona and Alaska. I hope you enjoy viewing them as much as I enjoyed making them.
EQUIPMENT
I use Canon cameras and lenses. Bodies are Canon's R5, 1DX Mark III, 5DX Mark IV and 7D Mark II. Lenses are Canon's 16-35mm f/4, 40-70mm f/2.8, 70-200mm f/2.8, 100-400 f/4.5-5.6m, 300mm f/2.8, and 600mm f/4. I also use Canon's 1.4x and 2x tele-extenders. Other gear includes a Manfrotto tripod with Wimberley gimbal head. Post-processing is done in Adobe Lightroom, followed by Topaz DeNoise, Sharpen and Gigapixel.